In India initiatives fall short of sheltering Delhi's homeless
The Supreme Court of India last month ordered Delhi to provide shelter for all the of the city's estimated 150,000 homeless. So far the city has opened only 37 shelters .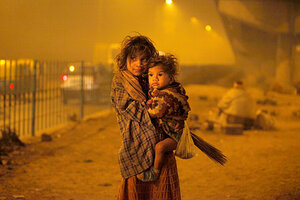 Reinhard Krause/REUTERS
Kusum sits braiding her daughter's hair beneath a busy overpass in Nizamuddin, a south Delhi neighborhood. She and her six children spent the night here, huddling together on the grimy pavement beneath torn old saris.
"Oh, it was so bad," says the mother, who migrated to the capital from West Bengal in search of work. While she has earned enough here as a daily wage laborer to send all her children to school, she says she is unable to provide them shelter.
Kusum and her kids are among the estimated 150,000 people who sleep on streets and in parks of India's capital. Late last month, following a petition by a human rights group, the People's Union for Civil Liberties, which complained that the government had not taken adequate action this winter to help people like Kusum, India's Supreme Court ruled that the Municipal Council of Delhi (MCD) must immediately set up night shelters for the city's homeless.
MCD immediately opened 37 new shelters capable of holding 5,000 people, but this didn't end Kusum's exhausting, icy nights and her anxiety for her children's health. "I don't know of any shelters – if I did we'd go to them," she says.
Though India's winters are brief – cold in December, but already warm by mid-February – the freezing cold nighttime temperatures frequently recorded in January are brutal for the homeless, especially those weakened by malnutrition. In Nizamuddin neighborhood on a recent morning, few people seemed to possess even a blanket.
Wretched poverty has always been evident in Delhi. But the problem of winter homelessness has been exacerbated this year by a cutback in government shelters and an surge in the number of people moving from the country to the city in search of work.
---