In Marjah offensive, Afghan forces take the lead
In a dramatic turnaround from this past summer, Afghan forces in the new Marjah offensive outnumber international forces 3 to 2. Efforts to 'Afghanize' the face of the war against the Taliban are seen as key.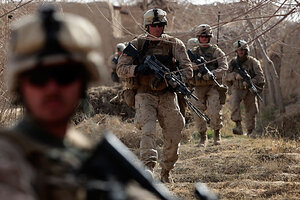 Goran Tomasevic/Reuters
In a marked contrast from previous campaigns, Afghan forces outnumber international forces by a ratio of 3 to 2 in the Marjah offensive launched this weekend, according to US military officials.
Just this past summer, when 4,000 US Marines swept into towns south of Marjah along the Helmand River, they did so with only 650 Afghan national security forces. The 6-to-1 ratio frustrated US commanders and became emblematic of the lack of readiness of Afghan forces after eight years of international military assistance and training.
President Obama has made training Afghans a top priority so that US forces can begin drawing down later this year. The Afghan force numbers for Marjah – some 10 times larger than in the summer offensive – do not in themselves prove rapid advancements in recruitment and training. But it is a positive indicator that Afghan authorities could mobilize that large a force for a dangerous assault on one of the Taliban's main strongholds.
"It's a large number and that in itself says something about having a force that can engage in military combat," says Ayesha Khan, associate fellow at London-based Chatham House. But, she adds, it does not mean Afghan forces are anywhere close to taking over the fight. "I don't think Afghan forces ... are ready to clear, hold, build."
---