Marjah offensive: New Afghan governor takes office as battle rages
Less than two weeks into the Marjah offensive in Afghanistan, an Afghan governor flew into town on Monday and began holding meetings.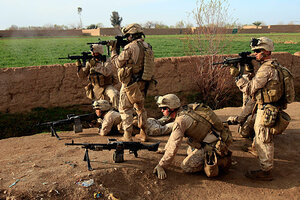 Goran Tomasevic/Reuters
The shots haven't even died away in one of NATO's biggest offensives of its nine-year war in Afghanistan, but US State Department officials are already rushing in Afghan government staff as part of the ambitious next phase of Operation Moshtarak.
The speedy rollout in Marjah of the new US strategy to "clear, hold, and build" is part of the renewed US strategy of wresting momentum from the Taliban. But some experts warn there is no way to install good government overnight.
Ten days into the fight – with US Marines and their Afghan counterparts still advancing on Taliban fighters holed up in the north and west – Marjah's new subdistrict governor was brought in and held a shura, or council, with local elders in the town center.
Haji Zahir will hold a flurry of similar meetings with other community representatives as soon as he is properly installed, possibly before the end of the week, in makeshift offices while the real ones are cleared of bombs and refurbished.
Civilian stabilization and governance advisers will assist him as he seeks to extend his reach as far and as quickly as possible. In the northern part of Nad-i-Ali, the district to which Marjah belongs, fighting has slackened sufficiently for development specialists to start rolling out "schools-in-a-box." Repairs to irrigation canals are also under way.
---