Afghanistan war: Who's who in the Taliban leadership
In the Afghanistan war, the Taliban's leadership council, or the Quetta Shura, has had 7 of its 15 Afghan members arrested in Pakistan in recent days. Here's a look at the key players in the Afghan Taliban leadership.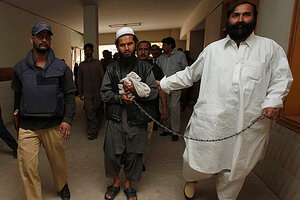 Akhtar Soomro/REUTERS
On Thursday, the Afghan government confirmed the arrest of Maulavi Abdul Kabir, who's capture by Pakistani authorities was reported in the media in recent days. Kabir is the head of Taliban operations in eastern Afghanistan. Afghanistan spokesman Siamak Herawi told the Associated Press that the Pakistani government told Kabul that Kabir was snared a week ago.
This was the first government official from either Pakistan or Afghanistan to publicly confirm his arrest. Kabul also confirmed Thursday that Pakistan has agreed to hand over Mullah Abdul Ghani Baradar, the No. 2 in the Afghan Taliban leadership – also know as the Quetta Shura.
The Quetta Shura is said to be the hub of all the Taliban's operations in Afghanistan. Much about this leadership council remains shrouded in secrecy, including even its membership and specific activities. Its size and composition have ranged over the years from as few as eight members to more than 20.
But the following list of members is based on interviews with two Taliban figures who claim to be part of the Quetta Shura and with Afghan intelligence officials. According to these sources, the council numbered at 15 when Pakistan began cracking down on the council earlier this month. The list changes frequently as Taliban officials are often reshuffled between the main shura and other subordinate bodies.
---