Terrorism lingers over India-Pakistan peace talks
Terrorism concerns loomed as India-Pakistan peace talks resumed Thursday for the first time since the November 2008 Mumbai attacks. Though India has seen little terrorism since, it pressed Pakistan on the topic and handed over three dossiers on suspected militants operating in Pakistan.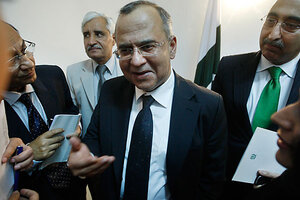 Saurabh Das/AP
Terrorism was a top item during the first formal India-Pakistan peace talks between the nuclear-armed rivals since the Mumbai attacks of November 2008.
Pakistani Foreign Minister Salman Bashir met his Indian counterpart, Nirupama Rao, in India's capital on Thursday, 15 months after the attacks, which many in India blamed on Pakistan's Inter-Services Intelligence Agency (ISI). The assault on India's financial capital, which killed 174 people, prompted India to suspend a formal peace process with its neighbor.
Ms Rao called Thursday's meeting "a first step toward rebuilding trust," but she also expressed concerns about terror groups operating inside Pakistan.
Speaking at a news conference following the meeting, Rao said she reiterated to Mr. Bashir that Pakistan must do more to dismantle terror networks and gave him dossiers on those linked to the Mumbai attacks, an al-Qaida-linked militant who has issued threats against India, and Indian fugitives hiding in Pakistan.
Bashir, for his part, said: "As far as the issue of Mumbai is concerned, Pakistan has done everything that was proper and could be done."
---