Earthquake prone Japan sees green in new nuclear power plants
The Japanese government is touting nuclear power plants as an easy way to cut carbon emissions. But safety is a public concern on the earthquake prone island, where a 6.9 magnitude quake hit on Saturday.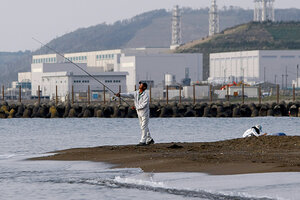 Toru Hanai/Reuters
Tokyo and Matsuyama, Japan
Japan is pressing ahead with an expansion of nuclear power, despite public unease and vocal opposition from activists.
Poor in natural resources, the country has long dreamed of reducing its fossil fuel dependency through domestic nuclear power. Now it's casting nuclear energy as a key to the fight against global warming, an argument that critics reject.
Japan's debate closely mirrors those worldwide, as governments highlight nuclear power as an easier way to cut carbon emissions than boosting wind and solar power.
President Obama, for example, on Feb. 16 announced $8.3 billion in loan guarantees to build the first nuclear reactors in the United States in 30 years – the first of many, he promised.
Japanese Prime Minister Yukio Hatoyama has pledged to cut Japan's carbon emissions to 75 percent of 1990 levels by 2020, if other major economies set similar targets. His government recently backed a plan for low-interest loans for new nuclear reactors.
"If we want to do this 25 percent reduction, obviously we need more nuclear plants," says Shunsuke Kondo, chairman of Japan's Atomic Energy Commission.
But the public isn't entirely convinced. According to the Japanese cabinet's own poll last November, 54 percent say they feel anxious or uneasy about nuclear power, with the top concern being the risk of an accident. Forty-two percent said they feel "safe" about nuclear power.
---