Can Afghanistan economy thrive without poppy?
The Afghanistan economy must shift reliance off its poppy crop toward agriculture and mining. The government began a massive poppy eradication campaign this week.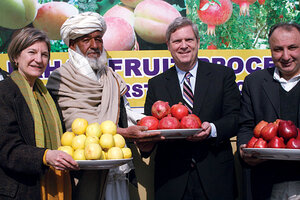 Morteza Nikoubazl/Reuters
Why does the Afghanistan economy matter to the world?
Let's do the math. President Hamid Karzai, backed by NATO commanders, says the country needs 400,000 Afghan soldiers and police to defend itself. That would cost about $10 billion annually.
Afghanistan's current budget: $1.1 billion. And $400 million of that comes from foreign donors.
To close that gap, Afghanistan cannot rely on the current dynamo of its economy – poppy. While it accounts for nearly 30 percent of the country's gross domestic product, and 90 percent of the world's heroine, it's unlikely to ever be legalized and, therefore, taxed. On Wednesday, the government launched a massive poppy eradication program, starting in the south.
What can be done to build up the remaining 70 percent of the economy?
Magic bullets
Policymakers zero in on two areas to grow Afghanistan's $11.4 billion economy: agriculture and mining. Farming has big potential by virtue of its huge workforce, and mining holds the prospect of untapped value in the billions of dollars. Both, however, will take years to develop and improved security to encourage investment.
---