After Pakistan attack, World Vision suspends operations
Militants assaulted an office of World Vision, a US charity, in northwest Pakistan. World Vision said it will temporarily suspend all aid operations in the country after the Pakistan attack killed six Pakistani employees.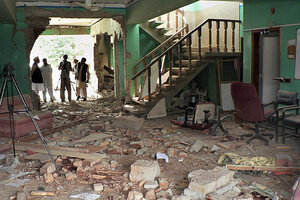 Naveed Sultan/AP
Masked gunmen stormed the offices of a Christian charity in northwest Pakistan on Wednesday, killing six Pakistani staffers and injuring several more.
The attack on the US-based World Vision took place in town of Oghi, in the district of Manshera, some 40 miles north of Islamabad.
World Vision will temporarily suspend all of its operations in Pakistan, says Dean Owen, a spokesman for the charity headquartered in Federal Way, Wash.
"Those who kill humanitarian workers must be reminded that they are not only killing their own country's residents, but also people seeking to improve the lives of victims of poverty and injustice," said a World Vision statement.
But other major aid groups working in the same area – such as the United Nations and Red Cross – say they will not curtail their activities.
---