Top Pakistan cricket players banned from national team
Pakistan cricket slapped star players Younis Khan and Mohammad Yusuf with a lifetime ban from the national team on Wednesday, angering many of the cricket-crazy nation's fans.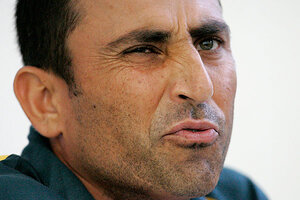 Alastair Grant/AP/File
Two of the world's best cricket players, Pakistani teammates Younis Khan and Mohammad Yusuf, were kicked off the national team on Wednesday, prompting howls from the nation's many fans at what seemed like a disproportionate punishment.
The Pakistan Cricket Board (PCB) said in a statement that it decided to permanently ban the two players from the national team as a result of "infighting which resulted in bringing the whole team down." Both men have captained Pakistan.

While the exact offenses are unclear, it is believed that the Board is unhappy with Mr. Khan for relinquishing the captaincy twice, then failing to make himself available for selection on recent foreign tours. Mr. Yusuf may have angered the PCB by going public with accusations of bad blood in the dressing room.
Cricket is a wildly popular sport here, and at times it has provided welcome relief from the security and political problems that the country faces. Last June, fans in Lahore and Karachi danced and cheered in the street after the national team won the Twenty20 World Championship in England, their first major win since 1992.
But such triumphs have been exceedingly rare in recent years, and some in Pakistan believe the country's cricket bureaucrats are seeking to cover up their own failings with the harsh action against the players. The Board has long been accused of haphazard selection of players, nepotism, and poor management.
---