India tour: How one impoverished teen helps preserve 700-year-old landmark
Youths living in New Delhi's historic Hazrat Nizamuddin Basti neighborhood are being trained as India tour guides in an effort to protect the ruins but also support livelihoods.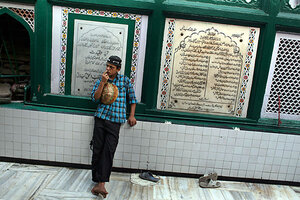 Pedro Ugarte/AFP/Newscom/File
Umair Naqi, a newly minted India tour guide, points to the shabby stone arch that leads into his Delhi neighborhood. The teenager recently discovered that this familiar landmark, at which he had kicked countless balls, was 700 years old – and one of the reasons tourists traipse the lanes around his home, peering at rundown buildings and bewildering the locals.
Mr. Naqi lives in the Hazrat Nizamuddin Basti, a warren of medieval streets that sprang up in the 14th century around the tomb of Hazrat Nizamuddin, India's most revered Sufi saint. As a Muslim teenager, Naqi knew the tomb was important, but he had no idea that his neighborhood – crammed with old houses, exquisite mosques, and hidden tombs – was one of the most historically significant in India.
He does now. Over the past two years Naqi, with 14 other local young people, has undergone training as a tour guide. The poorly educated youngster has learned English from scratch, studied medieval history, and memorized countless dates and architectural details. He now shows groups of visitors around the basti (an Urdu word meaning settlement) and intends to become a tour guide specializing in Muslim monuments.
"I understand when local people say, 'What are these people doing here? What is there to see?' " says Naqi, the son of a painter, who trips over his new English words in his hurry to point out pillars and porticos. "We didn't know why people came here either."
Naqi is part of a a nonprofit-led program to protect India's historic monuments, but not at the expense of people living among them.
---