Marjah, Afghanistan: Guns quiet, the battle for power now begins
One month after a US-led offensive to clear the Taliban from Marjah, Afghanistan, locals are worried less about the insurgents returning to power than about a notorious former official seeking to join the new government.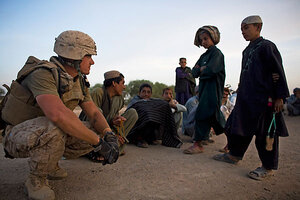 Dusan Vranic/AP
Weeks after a major United States-led offensive overturned Taliban rule in the southern Afghan town of Marjah, another force continues to hold sway over the population.
"We are ruled by fear now," says Gul Muhammad, a shopkeeper from the dust-caked market town, speaking by phone. "We don't know who will ultimately win here, or who will end up back in power."
Stuck between the Taliban, an untested new governor, and predatory former leaders trying to reclaim power, many of Marjah's residents say they are afraid to cast their support in any direction.
Yet establishing a suitable local government that wins over this hesitant population is one of the biggest and most important challenges the US faces. It could determine the success of the offensive, one of the largest in the nine-year Afghanistan war and a high-profile test of the US's "clear, hold, and build" strategy.
Taliban's haunting presence
The Taliban, who imposed de facto rule in Marjah in 2008, appear to have scattered since the offensive, but their influence still looms. The leaders of the insurgency mostly fled, locals say, and their shadow government – complete with Islamic courts and a "police" force – has disbanded.
But the residue of nearly two years of Taliban rule remains. Most midlevel leaders and the rank and file have simply melted back into the population. "They still have spies and supporters everywhere. If they catch us talking to the troops they can behead us," says Musa Aqa Jan, a laborer, echoing a widely shared view.
---