In India, local tribe battles UK giant Vedanta over bauxite mining
The Dongria Kondh tribe aims to defend its 'sacred' Niaymgiri hills in India from the bauxite mining bid of UK giant Vedanta. The conflict highlights India's growing dilemma: how to balance badly needed industrial growth with residents' connection to the land.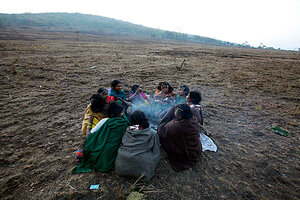 Reinhard Krause/Reuters
Members of the Dongria Kondh, one of India's indigenous tribes, would not normally climb to the top of the lush, green Niyamgiri hills in Orissa, eastern India, because they consider the mountains sacred.
But desperate times call for desperate measures. In late February, thousands of tribesmen and women made the 4,300-ft. ascent to pray, and leave an inscribed stone tablet that read: "Niyamgiri is ours. Vedanta beware. We are the Dongria Kondh."
Vedanta Resources Plc, a metals company based in Britain that is listed on the FTSE-100 index of the London stock exchange, is awaiting the Indian government's final clearance to start mining the Niyamgiri hills for bauxite – an ore from which aluminium is produced – which it needs for its alumina refinery close by. Its subsidiary, Sterlite Industries, which is co-owned by the Orissa government, will operate the mine.
A rising tide of protest – by tribal people and activists from around the world – has threatened the project, which has been repeatedly delayed since 2005. In March, in a further setback for the company, a government panel sent to the area submitted three reports saying Vedanta had begun work before receiving the final clearances.
The project has underscored a question of mounting importance in India: How the country should balance vital economic growth with the needs of local populations that are closely tied to the land.
---