Afghanistan war: NATO under fire over civilian casualties, Karzai criticism
After months of denial, NATO admitted Sunday to five civilian casualties in a February raid – a major setback in the Afghanistan war effort to 'win hearts and minds.'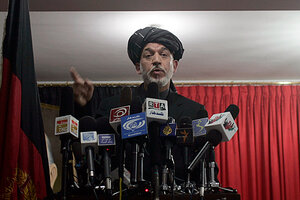 Golnar Motevalli/AP
Arghandab Valley, Afghanistan
NATO forces in Afghanistan are facing new pressure on the "hearts and minds" front after they admitted Sunday to killing five civilians in a February assault and as Afghan President Hamid Karzai appeared to publicly undermine Western efforts here.
Currently on a visit with top US commander Gen. Stanley McChrystal to Kandahar, where NATO is planning a major summer offensive against the Taliban, Mr. Karzai promised local leaders on Sunday that "there won't be an operation unless you are happy about it."
On Monday, he canceled a planned trip to a frontline NATO base nearby – a move that would hurt morale among local government workers and residents, US officials said.
---
Follow Stories Like This
Get the Monitor stories you care about delivered to your inbox.