US consulate in Peshawar attacked by Pakistan Taliban
A coordinated attack Monday on the US Consulate in Peshawar left at least six dead, including four Pakistani Taliban militants. No Americans were killed in the attack.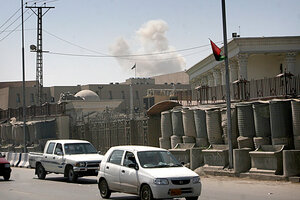 Mohammad Sajjad/AP
Three powerful blasts rocked the north-western Pakistan city of Peshawar on Monday, in a coordinated attack on the US Consulate.
Six people including four Pakistani Taliban militants were killed, said Bashir Ahmed Bilour, senior minister in the North West Frontier Province (NWFP). No Americans at the US Consulate were hurt, according to Reuters.
Resident Siraj Afridi said that a group of attackers carrying rocket-propelled grenades opened fire at security personnel before the blasts went off. The three blasts were reported to have occurred within a 20-minute period.

The Pakistani Taliban claimed responsibility for the attack. "We accept the attacks on the American consulate. This is revenge for drone attacks," spokesman Azam Tariq told Agence France-Presse.

"We will carry out more such attacks. We will target any place where there are Americans," he added.
---