India Maoist rebels kill 73 in major attack
India Maoist rebels, who claim to champion the poor, have been labeled the country's worst internal security threat, with 12,000 fighters and a presence in 22 of 28 states. A Tuesday massacre of 73 police officers is the worst in recent memory.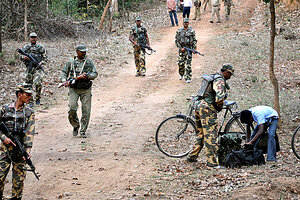 Sasanka Sen/AP/File
A heavily armed mob of Maoist rebels ambushed and killed 73 Indian policemen in one of their jungle strongholds in central India on Tuesday, sparking concerns about the effectiveness of the government's massive counterinsurgency operation launched against the rebels last year.
This is believed to be the worst attack ever from the leftist guerrillas, who have a presence in 22 of 28 states and pose one of India's greatest threats to security.
"The casualty is very high, and I am deeply shocked at the loss of lives," said P Chidambaram, India's home minister. "This shows the savage nature of [the rebels] and the brutality and the savagery they are capable of."
India's Maoist insurgents, also called Naxalites – after Naxalbari in the state of West Bengal, where the armed rebellion was first launched by local communists in 1967 – claim to champion the rights of India's poor and disenfranchised tribal population. Many activists claim their violence is motivated by socioeconomic deprivation.
They were once dismissed by India's political class as a ragtag rural insurgency. But last September Prime Minister Manmohan Singh called them the country's "biggest internal security threat." According to official estimates, the Naxalites have seized nearly a third of India's land, setting up parallel governments. In recent years they have attacked police forces, hijacked trains, and carried out beheadings. Last year they rejected government overtures for a cease-fire and negotiations.
---