Kyrgyzstan opposition takes over in Bishkek. What happens to Manas?
With opposition leaders claiming they've formed their own government in Bishkek and reports that Kyrgyzstan President Kurmanbek Bakiyev has left the country, What will happen to the US use of the Manas air base?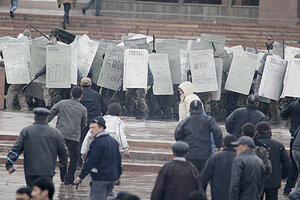 Ivan Sekretarev/AP
Violent protests in Bishkek, capital of Kyrgyzstan – a vital US ally that hosts Manas, the only American air base in Central Asia – appear to have pushed the regime of Kyrgyzstan President Kurmanbek Bakiyev to the brink of collapse.
Mr. Bakiyev was reported to have flown out of the country on Wednesday, and Russia's state-owned news agency Ria Novosti reported that the opposition is declaring victory over the president, who was widely perceived as corrupt and authoritarian.
"We went into the government building for talks; [Prime Minister Daniyar] Usenov wrote a declaration stating the government's resignation," opposition spokesman Temir Sariyev told Russian journalists. "Bakiyev left the building. It is not known where he went. He is not in Bishkek," he said.
Earlier on Wednesday the government declared a state of emergency.
---