Can US supply Afghanistan war without Kyrgyzstan's Manas airfield?
The US military may retain access to Manas airfield – a key transit hub for the Afghanistan war – despite the turmoil in Kyrgyzstan. But given the weakness of other supply routes, the loss would deal a major blow.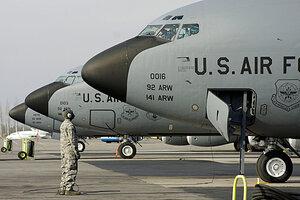 Igor Kovalenko/AP/File
Opposition forces have forced the president of Kyrgyzstan to flee the capital and have declared a new interim government. Having taken over government buildings, they are now trying to solidify their overthrow and gain international recognition, though events remain fluid.
The US has a major interest in the Central Asian nation: Manas airbase, a key transit hub for NATO soldiers and weaponry into Afghanistan.
Here's a look at what the turmoil in Kyrgyzstan may mean for the US supply route into Afghanistan.
Will the toppling of the Kyrgyz government mean the loss of Manas airbase?
Experts are divided. On the one hand, the country's post-Soviet politics involves clans vying over which powerful families will gain control over state businesses. That history suggests the new clan rising to power will want to renegotiate the lucrative deal with the United States, says Theodore Karasik, a Central Asia expert at the Institute for Near Eastern and Gulf Military Analysis in Dubai.
"It raises the possibility of having to renegotiate access to Manas again because these clans just want more money," he says. "This was a big source of income for these families who came to power" the last time.
---
Follow Stories Like This
Get the Monitor stories you care about delivered to your inbox.