Sri Lanka elections: Rajapaksa's bid to solidify power
In Sri Lanka elections on Thursday, President Mahinda Rajapaksa hopes to win the two-thirds parliamentary majority needed to alter the constitution.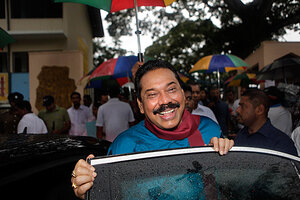 Manish Swarup/AP
Sri Lankans voted in parliamentary elections Thursday, in which President Mahinda Rajapaksa is expected to triumph – and then attempt to further tighten his grip on power.
Mr. Rajapaksa, who is still riding a wave of popularity that gathered during his government's historic defeat of the Liberation Tigers of Tamil Eelam (LTTE) rebels last year, was reelected in presidential polls in January, and hopes to win a two-thirds majority for his United People's Freedom Alliance coalition.
This would allow him to alter Sri Lanka's constitution. Few details have been made public about what this might involve. He has, however, mentioned replacing the proportional voting system currently in place with a "first past the post" arrangement that would give a single seat to the most popular candidate in each district.
That would consolidate his power. But many Sri Lankans – particularly the Tamil minority, whose discrimination at the hands of the Sinhalese majority fueled the 26-year war with the Tamil Tigers – instead want more power devolved to the regions. They also want a dilution of presidential powers, which include appointing the prime minister and dissolving parliament.
---