How lawyers plan to defend five Americans held in Pakistan terrorist plot
Lawyers defending five Americans charged with hatching a Pakistan terrorist plot say that police planted the evidence. The five men, they say, were in Pakistan to attend a wedding.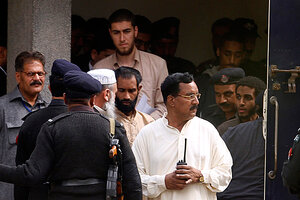 Anjum Naveed/AP
The five Americans from the Washington, D.C., suburbs, who are on trial in Pakistan on terror charges, are the victims of evidence fabricated by the police, their defense lawyers will argue in detail in court this week.
McClatchy was briefed on the arguments and evidence to be presented in court, which the defense hopes will expose serious discrepancies in the prosecution's case.
The case has heightened fears over the radicalization of Muslim Americans and put a spotlight on how extremists from around the world are drawn to Pakistan, America's critical ally in South Asia.
In a blaze of publicity, the five young American men, all Muslims, were arrested in December in the central town of Sargodha, Pakistan, and since charged with planning terrorist acts in Pakistan, Afghanistan, and the United States. While the men admit they wanted to go to Afghanistan, they say for "community work," it is the evidence that they planned any terrorist activity in Pakistan or the US that is to be called into dispute.
Contacts the men allegedly had over e-mail with a Pakistani militant linked to Al Qaeda could not have happened in the way the police claim, the defense will say. The date the authorities discovered the e-mail account, according to the police's own version submitted to court, was several days after police had briefed journalists on the e-mails.
---