Afghanistan war: US leaves remote outpost of Korengal
The remote Korengal Valley has been the scene of some the most intense fighting in the Afghanistan war. US troops have pulled out as part General McChrystal's counterinsurgency strategy.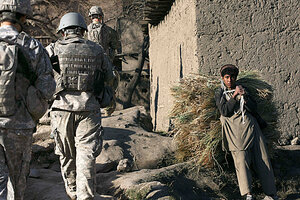 Brennan Linsley/AP/File
It became known as "Enemy Central," a small, isolated slice of eastern Afghanistan synonymous with violence, a dogged adversary and, increasingly, futility. More than 40 US soldiers have died there after being drawn into battles of attrition for questionable return. In the worst such incident, 16 American troops on a special forces mission were killed when their helicopter crashed under enemy fire.
Now the last US troops have pulled out of the Korengal valley on the grounds that they can be better used somewhere else. "This repositioning, in partnership with the Afghan National Security Forces, responds to the requirements of the new population-centric counterinsurgency strategy," Lt. Gen. David M. Rodriguez, joint commander of international forces in Afghanistan, said in a statement on NATO's website. "The move does not prevent forces from rapidly responding, as necessary, to crises there in Korengal and in other parts of the region, as well."
---
Follow Stories Like This
Get the Monitor stories you care about delivered to your inbox.