Nepal's Maoist protests stall peace process
Nepal's Maoists – former rebels who joined a peace process in 2006, won the right to govern in 2008, then resigned after a dispute a year later – say they will continue their protests until they are returned to power. The nationwide strike began Sunday.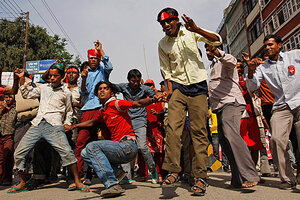 Binod Joshi/AP
A nationwide general strike called by Nepal's Maoists on Sunday has paralyzed life throughout the country, and cast doubt on the nearly four-year-old peace process aimed at bringing the Maoists into the political mainstream.
Tens of thousands of Maoist supporters have taken control of streets in Katmandu, demanding that Prime Minsiter Madhav Kumar Nepal – who succeeded Maoist chief Prachanda stepped down last May – allow the Maoists to lead a new government.
Nepal's Maoists fought a 10-year insurgency until 2006, when they agreed to enter a peace process.
In 2008, Nepal met a key Maoist demand of abolishing its 240-year-old monarchy and held elections for a special assembly in which Maoists won the most seats and took over the government. Since Prachanda stepped down after a row over the Army chief, they have sought to return to power, arguing that, with the largest number of seats in the assembly, only they have the people's mandate to lead.
Prime Minister Nepal, who has support of 22 of 25 political parties in the assembly, or just over 55 percent of assembly seats, has refused to step down. He has challenged the Maoists to oust him through due parliamentary process.
The standoff has put on hold the goals of the peace process, to settle the future of some 19,000 combatants corralled in camps monitored by the United Nations, and to promulgate a new constitution by May 28. It has also divided analysts over which side should soften its position.
---