Faisal Shahzad, Times Square bomb suspect, made now-familiar trek to Pakistan
Faisal Shahzad, arrested Tuesday as a Times Square car bomb suspect just before he left the country, had recently visited Pakistan. Several Americans showing interest in militant Islam or attacking America have journeyed there before.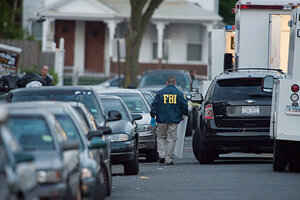 Douglas Healey/AP
The arrest of a Pakistan-born American in connection with this weekend's attempted attack on New York City's Times Square puts Pakistan back in the spotlight as a pilgrimage destination for would-be jihadis.
Police nabbed Faisal Shahzad, a Shelton, Conn., resident, as he tried to leave the US from New York's J.F.K. Airport Monday night on a flight for Dubai. He had recently returned from a five-month trip to Pakistan, the Associated Press reported, citing anonymous law enforcement officials.
It's not known yet whom he may have met there. But over the past year, police have arrested on terror charges a string of American residents who journeyed to Pakistan to try to meet anti-Western militant groups. These travelers include Najibullah Zazi, an Afghan-born man who admitted to plotting bomb attacks in New York, and five young Americans from the Washington, D.C., area who left behind a video in which they discussed the need to defend Muslims. Their trial continues in Pakistan.
---