Who is Huma Mian? Wife of Faisal Shahzad, Times Square bomb suspect
Huma Mian has been identified as an American citizen who graduated from Colorado University and is the wife of Faisal Shahzad. She is now in Pakistan, where authorities have detained her father.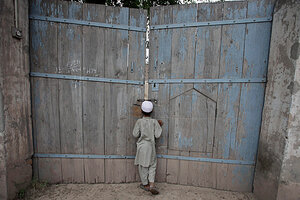 Faisal Mahmood/Reuters
Pakistani authorities have arrested several members of the family of Times Square bomber Faisal Shahzad, including his father-in-law, Iftikhar Mian.
News reports in the US initially suggested a possible Colorado connection between Shahzad's wife, Huma Mian, and Najibullah Zazi, an Afghan national who pleaded guilty to a foiled New York subway attack. But attention in Pakistan has turned to a small, peaceful village on the outskirts of Peshawar where Mr. Shahzad grew up.
Residents in Mohib Banda, population 10,000, described Shahzad's family as well respected and middle class in interviews given to Pakistani media, while some suggest he has been framed.
"The entire family is highly educated and enlightened. The villagers don't believe that Shahzad could act in such a manner," Kifayatullah Khan, a lawyer, told Pakistan's Dawn newspaper.
---