India hands Ajmal Kasab death sentence for Mumbai attacks
Mohammed Ajmal Amir Kasab may now appeal his death sentence, handed out Thursday for the 2008 Mumbai attacks. Most death-row convicts in India spend years in prison as they try to reverse their punishment.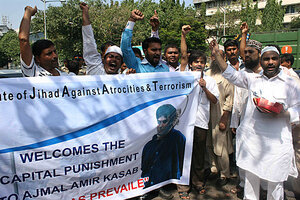 Reuters
A special court judge here on Thursday sentenced Mohammed Ajmal Amir Kasab, the only gunman captured alive in the 2008 terrorist attack on Mumbai, to death by hanging for murder, conspiracy, terrorism, and waging war against India.
The sentence ends the quickest major terror trial in India, though the execution is unlikely to happen any time soon. After just over a year in court, and a 90-minute sentencing hearing, Mr. Kasab now has the right to appeal to the Mumbai high court and the Supreme Court, and, finally, petition the president of India for mercy.
A subdued Mr. Kasab, clad in a white kurta, appeared upset when the sentence was first announced and was sent out of the courtroom for a glass of water. After his return, he kept his head down and a hand over his mouth until the end of the proceedings.
The 2008 attack, which targeted a city train station, two five-star-hotels, and a Jewish center, killed 166 people and injured 234. Kasab was one of two gunmen from Pakistan-based militant group Lashkar-e-Taiba who opened fire on commuters at the historic Chhatrapati Shivaji Terminus train station downtown.
Special court judge M.L. Tahiliyani described Kasab's crime as "brutality writ large."
"Kasab has lost his right to get a humanitarian judgment," he said later.
The trial will "send a message to those who want to wage war with India," said Indian External Affairs Minister S.M. Krishna, that they will be caught, and "tried and punished."
In past decade, one execution
---