Pakistan Taliban disavow Times Square bomb suspect Faisal Shahzad
A Pakistan Taliban spokesman denied knowledge Thursday of a video claiming responsibility for the Times Square car bomb attempt, though he praised suspect Faisal Shahzad's 'noble job.'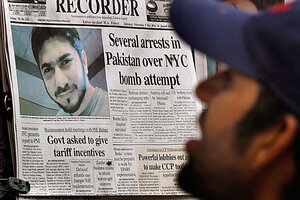 Anjum Naveed/AP
A spokesman for the Pakistan Taliban claims the group has fighters on American soil who are poised to attack, but denies responsibility for the fizzled car bomb in Times Square.
"We will be attacking in a new style against the United States and its allies. Our people have reached the US and other European countries and soon will be attacking," says Azam Tariq. The spokesman for Tehrik-e Taliban Pakistan (TTP) spoke by phone from an undisclosed location.
The group has shown little reach beyond Pakistan in the past and has been on the retreat in the face of Pakistan military offensives over the past year. For these reasons, analysts and officials have downplayed TTP's possible role in the New York City attempt. On Wednesday, Pakistani military spokesman Gen. Athar Abbas questioned the ability of the group to reach US soil. "Anybody can claim anything," he said.
In the initial aftermath of the car bomb's discovery in Times Square, an online video surfaced that purported to be from the Taliban group's top bomb maker and took responsibility for the attack. That was followed by another video, this time supposedly recorded in early April by the group's leader, Hakimullah Mehsud, in which he promised attacks on American soil within a month.
---