Faisal Shahzad case intensifies scrutiny of links between Pakistan militant groups
Officials aren't saying which militants, if any, Faisal Shahzad may have met in Pakistan, but focus is intensifying on how interlinked Pakistan militants groups may be. Pakistan and US officials differ in their assessments.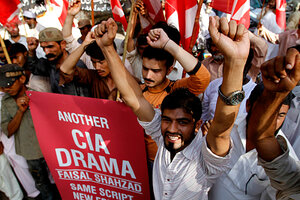 Shakil Adil/AP
How connected are the slew of militants groups inside Pakistan? That question is poised to shape Washington's demands and Islamabad's response to the Times Square bomb plot once the investigation finishes.
Already, some US officials appear to be shaping the debate by emphasizing the idea that these groups are interlinked. That formulation would put pressure on Islamabad to move not just against any one or two groups found to have helped Faisal Shahzad, but against the entire constellation of jihadi organizations in Pakistan.
Pakistan's security establishment, however, has differentiated between these militant groups in its engagements. Some factions are doggedly pursued; others are left alone, trusted with truces, or clandestinely encouraged. Such an approach assumes the groups are more independent than intertwined.
That's how retired Pakistani generals who have been down in the pit snake-handling these groups still portray the situation today. But younger researchers argue that, increasingly, the connections are growing.
"It doesn't mean there aren't varying degrees of hierarchy, command-and-control, and distinctions between these guys. But they are all more interconnected than they were in the past," says Stephen Tankel, a visiting scholar at the Carnegie Endowment for International Peace.
---