Popular pressure spurs Nepal Maoists to end general strike
Nepal's Maoists ended a six-day general strike that had angered citizens and prompted 10,000 people to demonstrate in Kathmandu Friday. The move may signal their willingness to adopt a more conciliatory political stance.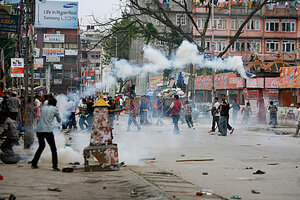 Navesh Chitrakar/Reuters
Nepal's Maoists ended a six-day general strike Friday amid pressures to ensure that the increasingly unpopular strike did not further undermine their standing among the general population.
Maoist chairman Pushpa Kamal Dahal, who goes by the name Prachanda, said in a press conference late Friday that Nepalese citizens should not be inconvenienced any further. He also said an end to the strike would deprive the government of opportunities to engineer clashes among Nepalese citizens.
"We have postponed the shutdown, but have not ended our other protests against this government," he said.
But analysts said the Maoists' decision was forced by increasingly irate citizens. The strike disrupted food supplies and limited access to medical services. Clashes broke out in the capital with bused-in Maoist supporters. And Maoists came under fire for unleashing a conflict-era-style extortion campaign to feed the crowd, and commandeering private schools to shelter them.
By week's end, the upheaval appeared to have undermined any sympathy for the Maoists from the largely neutral citizens of Kathmandu, a group whose participation has been instrumental in all regime changes in Nepal's history. Farmers and dairy owners were decrying the shutdown by throwing on the highways vegetable and milk that they could not take to the markets. On Friday, more than 10,000 people participated in a "peace gathering" in Kathmandu, and in Lalitpur district people overturned a truck carrying Maoist cadres and beat them up.
Ending the strike, some analysts say, may signal that Maoists are moving to adopt a more conciliatory approach that could change Nepal's troubled political landscape.
---