Educated and radical: Why Pakistan produces Faisal Shahzads
In Pakistan, educated middle-class youths such as Faisal Shahzad, the accused Times Square car bomber, have ready access to jihadist and other radical, anti-American resources.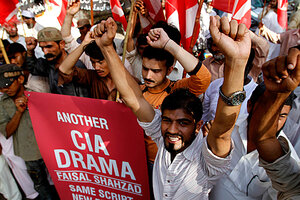 Shakil Adil/AP
What turns the affluent and educated offspring of the Pakistani middle-classes – young people such as Faisal Shahzad – toward militancy?
That's a question some Pakistani analysts are mulling following the arrest last week of the accused Times Square bomber Faisal Shahzad. If found guilty, he would add to a string of high-profile college-educated terrorists of Pakistani origin, including "Lady Al Qaeda" Aafia Siddiqui and 9/11 mastermind Khalid Sheikh Mohammed.
While the United States and the international community attempt to combat religious extremism through economic development, such as a recent American aid package to Pakistan pledging $7.5 billion of nonmilitary aid over 5 years, some argue that fighting poverty and illiteracy are not enough. Instead cultural factors, such as a virulently anti-American media, "toxic" syllabi at public schools, and the general availability of jihadist material may have become dangers as well.
---