Pakistan Taliban claim retaliatory bombing
A bomb attack in the northwestern town of Dera Ismail Khan killed 12 people Tuesday, including a senior police officer whom the Pakistan Taliban said they had targeted.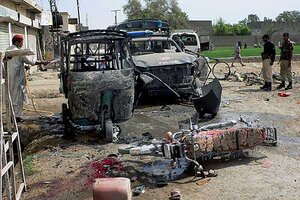 Ishtiaq Mahsud/AP
A bomb blast aimed at a police van in the Pakistani city of Dera Ismail Khan on Tuesday killed 12 people, furthering a string of attacks in the northwest near where the Army is pursuing the Taliban.
Some 10,000 troops are conducting a major operation in Orakzai tribal agency as part of a year of offensives in which the military has gained ground but failed to capture key leaders or prevent retaliatory bombings.
While attacks have ebbed recently in Pakistan's biggest cities, they continue apace in the northwestern province of Khyber Pakhtunkhwa. Monday's bombing killed up to four policemen, including senior officer Iqbal Khan, along with women and children. A Taliban spokesman told Agence France-Presse that the group had intended to kill Mr. Khan, who was "so active against the Taliban." The bombing appeared to have been attached to a bicycle and detonated remotely.
Fighting for momentum
---