Moscow furious, says US not pushing drug war in Afghanistan
Moscow's new drug czar, Viktor Ivanov, claims Russia is being flooded with cheap heroin and charges that the US and its NATO allies in Afghanistan are reluctant to pursue a drug war that could drive poppy farmers into the arms of the Taliban.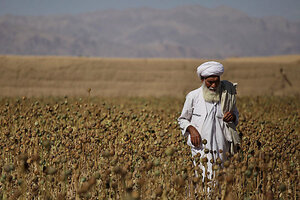 Julie Jacobson/AP
Russia's new drug czar, Viktor Ivanov, is spitting mad at NATO.
A gruff and graying veteran of the Soviet Union's disastrous military intervention in Afghanistan, he recently made his first return visit to that country. When he came back to Moscow, he had harsh words for the Western alliance, charging that it is enabling a drug-fueled hurricane of destabilization that is now sweeping across former Soviet Central Asia and Russia.
He wants the war in Afghanistan to be a proper drug war. Why?
Mr. Ivanov says the flow of narcotics from the fields of Afghanistan into Russia has increased by 16 percent in the past three years alone, spiking urban drug addiction. He alleged in a March press conference that drug barons are uniting with Islamist militants to seize power in vulnerable Central Asian states – and that the North Atlan­tic Treaty Org­ani­zation's (NATO) failure to deal with Afghan­istan's burgeoning drug production threatens to create a security nightmare for Russia and its regional allies.
"We do not believe the principal aims of the NATO security operation in Afghanistan have been achieved," Ivanov said at a press conference. "Of course the struggle against terrorism should take precedence, but what about liquidating drug production? How does it happen that almost 10 years after NATO occupied this country, Afghanistan is not only the world's largest producer of opium, but also of hashish, surpassing the traditional global leader, Morocco?"
---