Pakistan's Supreme Court OKs release of militant linked to Mumbai attacks
Pakistan's highest court today upheld a decision to release Hafiz Mohammed Saeed, whom India says masterminded the 2008 Mumbai attacks.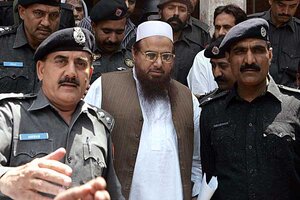 K.M. Chaudary/AP/File
The Supreme Court of Pakistan on Tuesday upheld a lower court's decision to free the leader of a militant group whom India blames for masterminding the November 2008 Mumbai attacks.
Hafiz Mohammad Saeed, leader of banned militant group Lashkar-e-Taiba (LeT) and its charitable arm the Jamat-ud-Dawa, was placed under house arrest a month after the Mumbai attacks that left 160 dead in the Indian financial capital. But he was released a year ago by the provincial Lahore High Court on the grounds of insufficient evidence, which led the government to appeal the decision.
Tuesday's decision provoked an immediate outcry in India, and will be seen as a setback for ties between the countries, which are slowly mending following an informal meeting between prime ministers Manmohan Singh and his Pakistani counterpart Yousuf Raza Gilani at the sidelines of the South Asian Association For Regional Cooperation (SAARC) summit in Thimpu, Bhutan, last month.
"India hopes Pakistan will take meaningful action against Saeed. We are disappointed over at Saeed being let off by Pakistan," said Indian Foreign Secretary Nirupama Rao at a press conference in Delhi.
---