Afghanistan peace jirga's unlikely critics: victims of war crimes
Some 1,500 delegates at Afghanistan's peace jirga are debating how to reconcile with insurgents. But war crimes victims say their concerns are being buried.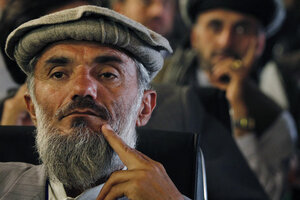 AP Photo/Musadeq Sadeq
As the Afghan government's peace jirga meets for a second day to discuss how to reconcile with insurgents and end years of violence, an unlikely coalition is lobbying against the effort: victims of previous wars, who say their demands deserve to be heard alongside the belligerents'.
After hours of discussion Thursday, Afghan tribal elders agreed that this peace meeting had to produce an overture to the Taliban insurgents because NATO and Afghan forces weren't able to bring security to the people.
Victims say that they too want lasting peace for Afghanistan, but argue that it requires accountability, not amnesty. The lack of justice only encourages further violence, they say.
But in a country that's seen countless factions battle brutally and shift alliances for three decades, they acknowledge that any peace deal is more likely to bury the past than try to assign blame for the suffering and deaths of millions.
Victims' jirga
Still, surviving family members, along with a coalition of 24 NGOs called the Transitional Justice Coordination Group gathered in Kabul last month ahead of the three-day government jirga, or council, to make their point with a "victim's jirga." More than 100 attendees from around the country met for two days, where they recounted personal tragedies and war crimes under various regimes, and visited a suspected mass grave at Pul-e-Charki, on the outskirts of town near the country's largest prison.
"I am like a butterfly hovering over the grave of my sons… I have a broken heart… my children, my flowers, why did you go away from me?" lamented Taj-e-Nissa, reading a poem she had composed.
---