Sri Lanka, UN duel over wartime investigations
A UN panel is set to monitor how Sri Lanka responds to allegations of violating human rights during the end of its civil war with the Tamil Tigers. But Sri Lanka has resisted this and other outside attempts at accountability.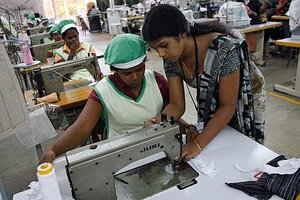 Eranga Jayawardena/AP
One year after Sri Lanka's decisive victory over Tamil insurgents, controversy still swirls over the bloody end to the 26-year civil war.
Sri Lankan officials argue that they defeated an outlawed terrorist group, the Liberation Tigers of Tamil Eelam (LTTE), which had refused to make peace. They insist that their military strategy was legitimate and had popular support. Political leaders have drawn parallels to America's wartime actions and asked why nobody calls Western powers to account for civilian suffering.
Critics say both parties to the conflict violated international humanitarian laws and terrorized trapped civilians. Human rights groups have called for an international inquiry into the war's final stages, when tens of thousands of civilians may have died during repeated shelling by government forces of designated no-fire zones.
IN PICTURES: World's worst human rights violators
United Nations Secretary General Ban Ki-Moon has waded into the debate by setting up a panel of experts to advise him on Sri Lanka's progress on accountability on human rights issues. The panel's members have not been appointed, but the idea has met strong resistance from Sri Lanka. It fears a repeat of the Goldstone inquiry into the 2008 Gaza conflict – which accused Israel and Hamas of committing war crimes – and being subjected to a tribunal.
---