Indians outraged by Bhopal gas verdict prepare counterpunch
Activists vowed to appeal a court decision Monday that issued seemingly light sentences over the infamous 1984 Bhopal gas leak, which killed 15,000 people. Opposition politicians threatened to stymie a key nuclear deal with the US.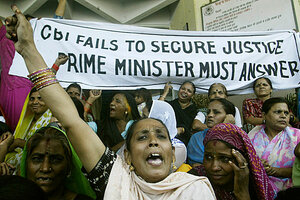 Raj Patidar/Reuters
Anger across India over what many see as a light sentence for eight men Monday over the 1984 Bhopal gas disaster – often called the world's worst industrial disaster – may reignite a battle for justice that had fallen off the radar of much of Indian media and society.
Activists vowed to appeal the court's decision, and survivors' rights groups began organizing protests. The biggest fallout may be on the fate of the Civil Liability for Nuclear Damage Bill, draft legislation that would limit the liability of nuclear companies and be a keystone of a India-US civilian nuclear deal. In response to the verdict, opposition parties reaffirmed their intent to block the legislation.
Monday's decision by a local court – to sentence eight former employees of Union Carbide of India Limited (UCIL) to two years' imprisonment and a little over $2,000 in fines in what is often called the world's worst industrial disaster – shocked most Indians, particularly victims of the disaster. The December 1984 gas leak from a pesticide plant in the congested city of Bhopal killed several thousand within days and at least 15,000 over the years. The case had sat in the courts since 1986. Its outcome also drew widespread criticism of both the legal system and the investigatory and prosecutory agencies.
Union Carbide said in a statement to the Wall Street Journal Monday that it had already settled with the Indian government for $470 million in 1994, and had nothing to do with the Indian subsidiary anymore. The company has sold its share to Dow Chemicals.
Seeking legal recourse
---