Interview with Afghan warlord Gulbuddin Hekmatyar: Can peace talks succeed?
In a rare interview conducted by e-mail, Afghan warlord Gulbuddin Hekmatyar – head of the weakest of three main insurgent groups and the first to engage in peace talks with Kabul – lays out his plan to stop the fighting.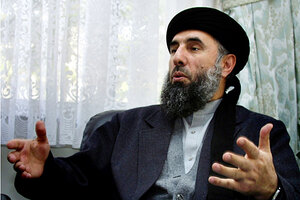 Caren Firouz/Reuters/File
Gulbuddin Hekmatyar, a veteran Afghan warlord, heads the only one of three main insurgent groups that is holding direct negotiations with the government. His group, Hizb-e-Islami, controls large swaths of the north and east, and in March it delivered to Kabul a 15-point peace proposal. But any deal with Hizb-e-Islami remains far off, due to disagreements over when foreign troops should leave and when to hold new elections. And it is not clear that stronger groups such as the Taliban would follow suit.
Mr. Hekmatyar, who is believed to be hiding in Pakistan, discussed the peace negotiations with the Monitor in a rare e-mail interview, with high-ranking associates of his verifying his identity. Here are excerpts from the interview.
In March, a delegation of yours visited Kabul to explore peace negotiations. Why did your group decide to start talks now?
---