New plan to woo Afghan Taliban could harm villages
Kabul is proposing to reward villages whose Afghan Taliban fighters surrender by disbursing cash through councils that already oversee aid money. Critics say that would make the councils Taliban targets.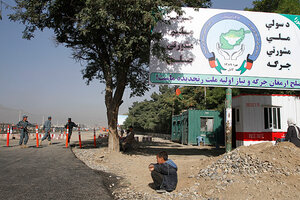 Musadeq Sadeq/AP
A plan drawn up by the Afghan government and NATO to disarm Taliban fighters is raising concerns that it could imperil one of Afghanistan's most successful development programs.
The draft document, circulating in Kabul as the Afghanistan Peace and Reintegration Program, envisions delivering aid to home villages of former Taliban fighters. The money would be spent by elected village councils set up under the National Solidarity Program (NSP) – widely seen as one of the few bright spots in Afghan reconstruction.
On Tuesday, US special envoy Richard Holbrooke pressed the Afghan government to finalize a draft plan and get it up and running before a Kabul conference on July 20.
But international aid groups involved in the NSP say that the current draft plan would militarize the civilian program, making themselves and the village councils a target for the Taliban. They warn the plan would diminish participation in the NSP just as it begins to show success boosting Afghan attitudes about their government.
The disarmament plan "might be perceived by the opposition as a hostile measure for recruitment of combatants. Every organization associated with that project will be considered an enemy," says Laurent Saillard, head of the Agency Coordinating Body for Afghan Relief, a consortium for nongovernmental organizations.
---