Kyrgyzstan violence sends Uzbek refugees to the border
Ongoing Kyrgyzstan violence has sent 100,000 ethnic Uzbek's fleeing to the country's eastern border. The interim government has charged that gangs tied to ousted President Kurmanbek Bakiyev are responsible for starting the fighting.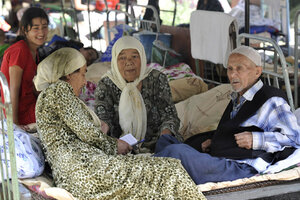 AP Photo/Anvar Ilyasov
Roughly 100,000 minority Uzbeks have fled to Kyrgyzstan's eastern border, displaced by a wave of ethnic violence that has killed about 200 people, seen Russian paratroopers dispatched to restore order, and raised questions about whether the ousted president is reaching out to gangsters to destabilize the country and engineer his return.
An interim government spokesman in Bishkek, the capital, says fighting in the southeastern city of Osh had cooled after a weekend in which Kyrgyz gangs destroyed Uzbek homes and shops and murdered many of their inhabitants. He says that violence in the nearby city of Jalalabad continues to rage and that the government is appealing to Russia to send troops to control the situation.
The interim government led by Roza Otunbayeva has struggled to control post-Soviet Kyrgyzstan since a wave of rioting and protests pushed President Kurmanbek Bakiyev from power in April. The US and Russia were both quick to recognize Kyrygzstan's new leaders, not least because of the country's strategic importance. The only US airbase in Central Asia is at Manas outside Bishkek and is a vital supply line to the war effort in Afghanistan. Russia, too, has bases in Kyrgyzstan, which prompted it to send troops to secure them.
---