McChrystal Rolling Stone remarks spotlight Afghanistan withdrawal timeline
General McChrystal's Rolling Stone remarks, which were critical of US officials, have turned the spotlight on disputes over Afghanistan withdrawal timeline.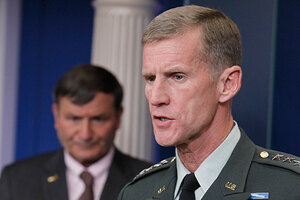 Charles Dharapak/AP
The furor over disrespectful remarks directed at the Obama administration by Gen. Stanley McChrystal and his staff has already earned the man in charge of turning around the Afghanistan war a new moniker: the Runaway General.
Today, the fallout from comments made to Rolling Stone magazine could make him the gone-away general and, some say, jeopardize a counterinsurgency strategy he helped craft. McChrystal flew back to Washington overnight for an emergency meeting with President Obama, who yesterday spoke of the general's "poor judgment."
Critics of the general argue that McChrystal is trying to box in Obama and challenge civilian supremacy over the US military. But others say his departure at a highly sensitive juncture could deal a severe blow to the war effort.
"McChrystal has been one of the most successful NATO commanders in the country in the past nine years and now he's put in a strategy that is just being implemented," says Waliullah Rahmani at the Kabul Center for Strategic Studies. "If there are any changes in the command, I think it will tend to affect and slow the strategy. It would be very, very negative."
---