General Petraeus and General McChrystal: same policy, different face?
While the strategy remains the same, will the deft touch of General Petraeus reorient key relationships among leaders in Afghanistan?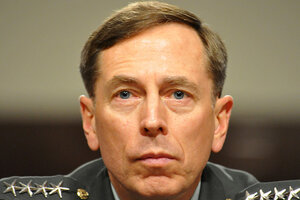 Karen Bleier/AFP Photo/Newscom
Gen. David Petraeus and the man he is set to replace in Afghanistan, Gen. Stanley McChrystal, are about as different as possible for two West Point graduates of roughly the same age and rank.
Petraeus, with a deft political touch and a scholarly demeanor, is always careful with his public comments. He's a master at building political support, as he did with a leery Congress in pitching a troop surge and change in strategy in Iraq. He also adeptly managed Iraq's fractious domestic politics as he sought to bring Sunni insurgents in from the cold.
The brash McChrystal, by contrast, has shown disdain for politicians opposed to the Afghan troop surge and shift to a counterinsurgency strategy that is focused more on protecting the country's 30 million people than on fighting Al Qaeda and the Taliban. That image was only confirmed by the disparaging remarks he and his aides made about the Obama administration in the Rolling Stone article that cost him his job.
---