Kyrgyzstan failure could boost Afghan drug trade, Islamist radicals
The recent wave of ethnic violence is Kyrgyzstan's second violent upheaval in five years. A June 27 referendum could bolster the weak government, but lingering security problems may hamper the vote.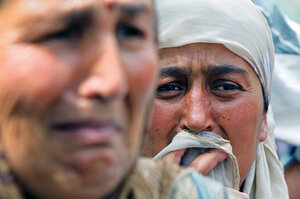 Sergei Grits/AP
A wave of brutal ethnic violence in southern Kyrgyzstan, which officials now admit killed as many as 2,000 people, threatens to turn the mountainous Central Asian nation of 5 million into a failed state. A failed Kyrgyztan could destabilize its neighborhood, offer a target for the region's Islamist radicals, and provide a haven for narcotraffickers working the opium pipeline from Afghanistan, experts warn.
The crisis has also pointed up the limitations of the international community – especially Russia – when responding to civic emergencies in that volatile part of the world. While the Kyrgyz cities of Osh and Jalalabad burned, sending almost 100,000 ethnic Uzbeks fleeing into Uzbekistan, Moscow dithered and then sent a few planeloads of humanitarian aid.
"People often frame the discussion about Central Asia in terms of competition between the big powers, but at this point it's not about geopolitical struggle: It's about who will take responsibility for providing regional security," says Fyodor Lukyanov, editor of Russia in Global Affairs, a leading Moscow foreign-policy journal. "I think just about everyone now hopes Russia will do it, but it is not at all clear that Russia has the capacity or the will to do much."
---