Who's afraid of talking to the Taliban? Many Afghans
As General Petraeus assumes command in Afghanistan, President Karzai is pushing Taliban negotiations, but many Afghan women and minorities resist such talks.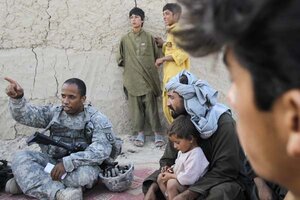 Denis Sinyakov/Reuters
As Gen. David Petraeus prepares to take command of the Afghanistan war, President Hamid Karzai's outreach to the Taliban is drawing warnings from some Afghan factions, particularly women and ethnic minorities. They argue that peace offerings are undermining efforts to expel the movement from its strongholds and could, if reconciliation progresses much further, turn the former warlords who helped overthrow the Taliban in 2001 against the current central government.
Malalai Ishaq Zai was a virtual prisoner in her own home in the southern Afghanistan city of Kandahar for nine years after the Taliban seized the city and imposed their puritanical and misogynistic version of Islam on the population.
Since then, she has run a school, headed a women's organization, and become the sole female representative of Kandahar Province in the current parliament. But it has not all been smooth. She practically quivers with rage when she talks about the 2006 kidnapping of her eldest son by the Taliban and issues a stern warning to President Karzai, who has been making peace overtures to the movement that provided a haven for Osama bin Laden.
---