General Petraeus hearing to put Afghanistan war, not him, in hot seat
At General Petraeus's confirmation hearing Tuesday, legislators are expected to endorse the respected commander but scrutinize the patchy progress of the nine-year Afghanistan war.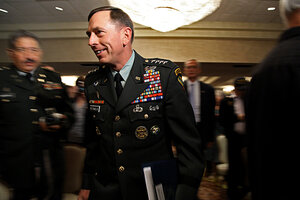 Craig Ruttle/AP
Gen. David Petraeus's confirmation as the new commander for the Afghanistan war is virtually assured at the Capitol Hill hearing Tuesday, but not before he takes tough questions from skeptical legislators about the wisdom of a nine-year war that is seeing its deadliest month for foreign troops.
An audit of efforts to train Afghan military and police released by the United States government on Monday found that the effort has been plagued by trainer shortages, illiteracy, and drug abuse by recruits, and that NATO has used a rating system for Afghan security forces that "overstated the operational capabilities" of even top-rated units.
On top of that, recent polls show that a majority of Americans don't think the Afghanistan war is winnable and that President Barack Obama is losing support over his handling of the conflict.
So far in June, according to the independent website icasualties.org, 101 members of the NATO military coalition here have been killed, 55 of them American soldiers. Last June the coalition saw 38 casualties. The previous deadliest month of the war for foreign troops was August 2009, with 77 casualties.
Unease over corruption
In a sign of the growing unease among politicians, US Rep. Nita Lowey (D) of New York vowed Monday to block all but humanitarian aid for Afghanistan in the next budget until she's convinced that the Afghan government is dealing with the rampant corruption that is hurting the war effort.
---