China-Pakistan deal raises fears of nuclear proliferation
China's plan to build two nuclear reactors in Pakistan has prompted concern about nuclear proliferation. The two nations may aim to counter mutual rival India, which signed a nuclear deal with the US last year.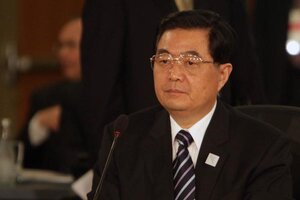 Newscom
A $2.4 billion nuclear reactor deal between China and Pakistan aimed at reducing Pakistan's chronic energy shortage has cast light on the decades-old strategic partnership that Chinese President Hu Jintao described as "higher than the mountains, deeper than the oceans."
The agreement, announced last week, would see the construction two 650-Megawatt nuclear reactors, and it reaffirms the longtime alliance between the two nations particularly as their shared rival India and the United States also deepen ties.
But the proposed deal reignites concerns surrounding Pakistan's history of nuclear proliferation – most notably through its former top nuclear scientist A.Q. Khan, who confessed in 2004 to leaking nuclear secrets to Libya, Iran, and North Korea.
---