Attack on Lahore shrine raises concern about sectarian violence in Pakistan
Thousand of Pakistanis protested Friday after militants attacked a Lahore shrine. Debate is intensifying about the potential for a rise in sectarian violence.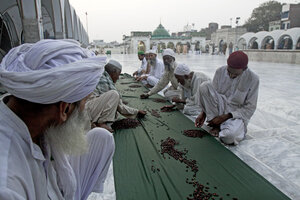 K.M.Chaudary/AP Photo
Thousands of Pakistanis took to the streets on Friday demanding better security for places of worship and a crackdown on extremists following twin suicide bomb attacks at the country's most famous Sufi shrine that have raised concerns about an increasingly sectarian cast to the country's violence.
But some analysts said it would be a mistake to characterize the recent spate of attacks as sectarian, given the one-sided nature of attacks thus far.
"We don't see violent attacks coming from the other groups. They are coming from one community," says Rasul Baksh Rais, head of political sciences at the Lahore University for Management Sciences, adding that the militants are finding themselves increasingly unpopular for carrying out such strikes.
Security was beefed up at mosques and shrines in the cities of Peshawar and Karachi, while protesters at the iconic Data Darbar shrine demanded that the provincial government of Punjab end its alleged sponsorship of terror groups.
Though the Taliban have officially denied responsibility for the attack, which killed at least 42, most analysts believe it to be the work of the so-called "Punjabi Taliban," an umbrella term used to describe a loose-knit alliance between various sectarian Punjabi militant groups that have in the past been sponsored by the Pakistani government and intelligence agencies.
---