Every day is laundry day for Mumbai's dhobis
More than 5,000 laundrymen clean and iron thousands of clothing and textiles each day at Mahalaxmi Dhobi Ghat, one of many laundering sites in Mumbai (Bombay). Manual labor here is still cheaper than machinery.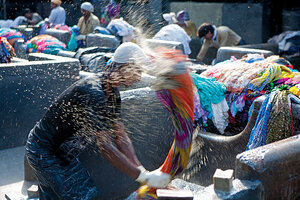 Melanie Stetson Freeman/Staff
Rajkumar Kanodjia swings a pair of wet pants over his head and sends them crashing against a cement slab. Water flies off all along the arc – then with a smack comes an explosion of soapsuds on the stone.
Mr. Kanodjia's spin cycle is now largely done by washing machines in the developed world. But in India, many ancient professions persist because labor is still cheaper than machinery and electricity.
IN PICTURES: Mumbai laundry workers
With roughly six workers in each of the 826 washing cubicles, Mahalaxmi Dhobi Ghat offers space to thousands of dhobis – laundrymen – who clean, dry, iron, and deliver hundreds of thousands of articles of clothing and textiles each day. The work site is just one of many around the teeming city of Mumbai (Bombay), home to 14 million.
Tourists to India who hand over their travel-worn duds on any given morning learn the miracle of the dhobis when their clothes come back that evening, immaculate and crisp. The cost to launder a shirt-and-pants combo: the equivalent of 21 cents.
Even if you have never visited India, your clothing may have been washed at one point by dhobis, since some textile manufacturers in India still send new pieces to them for their first washes. But the biggest clients at the Mahalaxmi are the hotels, with their towels, bedding, tablecloths, and napkins.
"I always have a song in my head while I am rapping," says Kanodjia, referring to the rap of cloth against stone. Lately, it's the hit Bollywood song, "All is well!" The song, like much of India's enduring ways of life, thumbs its nose at the future:
"What does a chicken know what will happen to her egg? Will it get life or be fried in a pan? No one knows what our future will be! So turn your lips, whistle, and say, 'Brother, all is well!' "
IN PICTURES: Mumbai laundry workers
Related:
---
Follow Stories Like This
Get the Monitor stories you care about delivered to your inbox.