India's new currency symbol puts rupee in the money
India approved a new currency symbol after a nationwide contest this year to find a new way to represent the rupee.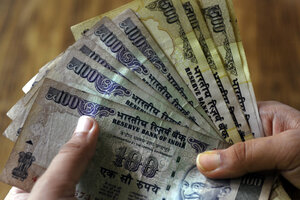 Deshakalyan Chowdhury/AFP Photo/Newscom
India now has its own version of the dollar sign.
The Finance Ministry held a nationwide contest this year to design the symbol that will represent the country's currency, the rupee. The Indian government gave its seal of approval today to the winning entry.
Take a capital roman letter "R," subtract the vertical spine, and add some Euro-like horizontal lines at the top. The character also resembles the "Ra" character in India's clothesline-looking script known as Devanagari. The new symbol, therefore, has both Indian and international flavor.
Until now, the most common notation for the rupee was "Rs." The problem is that a number of countries – including archrival Pakistan – also have a rupee, leading international traders to rely on the clunky "INR" to distinguish it.
The creation of the new symbol represents India's assertion of importance as a major international market, one whose currency warrants a special moniker, not just a jumble of letters.
"With this, India will join an elite group of countries which have a distinct currency symbol. It denotes the robustness of Indian economy," said Ambika Soni, the Minister for Information and Broadcasting.
New rupee notes and coins will bear the symbol, as no doubt will Indian keyboards, shops, and currency stalls.
More important will be the extent to which the symbol will gain international usage and cache. Experts see this as an important branding opportunity for the wider Indian economy among international investors.
---