As wealth rises in India, so do private towns
As more Indians pack into already crowded cities, developers are wooing wealthy urbanites with private towns boasting amenities like gardens, pools, walkable streets, schools, and a golf academy.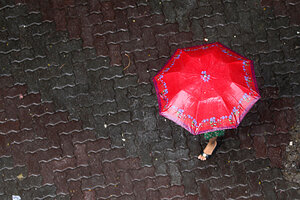 Rafiq Maqbool/AP
In a valley surrounded by seven small hills in western India, a new town is taking shape.
Its downtown of hotels, a town hall, and Mediterranean-inspired apartments sits beside a manmade lake. Row houses are being built. Uninterrupted power and water are promised – as are top-notch schools, a space education park designed with NASA know-how, and a Nick Faldo Golf Academy.
Lavasa could be the antithesis of today's Indian cities – a green and orderly space free of the chaos and pollution of, say, Mumbai (Bombay), the sprawling megalopolis only three hours away. Slated to open later this year, it is the most ambitious of a slew of new townships being developed by the private sector, aimed at India's burgeoning urban elite.
Such private towns advertise not just walkable streets and swish office buildings but also proximity to IT parks and special economic zones, whose professionals they aim to attract.
They also exemplify India's uneven economic growth. Some townships have taken over farmland. Most keep hawkers and shanties at bay with gates and security guards, yet rely on a local supply of cheap labor – often the farmers who once owned the land.
 
The new townships "are an indicator that the rich in India are increasing rapidly," says urban development expert Prakash Apte based in Mumbai. But "they're also a sign of the growing inequality."
Easing crowded cities
---
Follow Stories Like This
Get the Monitor stories you care about delivered to your inbox.