In Pakistan, Hillary Clinton announces new aid projects, lauds mango
The mood was upbeat during Hillary Clinton's two-day visit to Pakistan, in contrast to her visit in October. Today she announced plans for two hydroelectric dams and three hospital projects.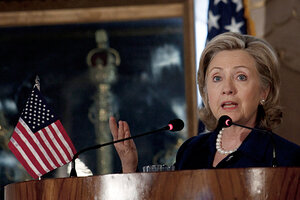 B.K.Bangash/AP
US Secretary of State Hillary Rodham Clinton Monday unveiled a series of development projects for Pakistan on the second day of her visit to the country, as part of what she termed an effort to "expand the dialogue beyond security."
Speaking at a town-hall-style meeting in the capital on Monday, Mrs. Clinton announced the construction of two hydroelectric dam projects that will supply power to more than 300,000 people near the Afghan border, an overhaul of the municipal water supply of Peshawar and southern Punjab, and the renovation or construction of three new hospitals in Pakistan's metropolitan cities of Lahore and Karachi.
The projects are to be funded under US legislation passed last year that increased civilian aid to Pakistan to $7.5 billion over five years. They are part of a broader move to quell anti-Americanism by convincing Pakistanis that the US has a deeper commitment to the country, a key ally in the war in Afghanistan.
A day earlier, Clinton and Pakistani Foreign Secretary Shah Mahmood Qureshi announced a landmark trade deal between Afghanistan and Pakistan that will allow Afghanistan to use Pakistan's land border to export to India, while giving Pakistan land access to Central Asia via Afghanistan.
"We know that there is a perception held by too many Pakistanis that America's commitment to them begins and ends with security," said Clinton. "But security is just one piece of this vital partnership.
---