Afghanistan war: Are Afghan forces loyal enough to take control by 2014?
The beheadings of six Afghan police have raised questions about the true loyalties of some Afghan forces during a crash program to recruit and train more locals in the Afghanistan war.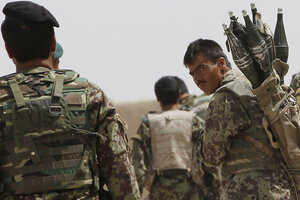 Bob Strong/Reuters
Afghan President Hamid Karzai said Tuesday that his country will be ready to take full control of Afghanistan's security by 2014, but recent attacks on Afghan security forces and problems with continuing literacy and Taliban infiltration in the ranks are showing how tough a task that will prove to be.
President Obama wants Afghan forces to take the reins – in at least some provinces – here by the middle of next year, and plans are currently being drawn up by the Afghan Defense and Interior Ministries to so.
But the $27 billion effort to train Afghan soldiers and police for most of the past eight years has been judged by outside observers to have churned out soldiers and police forces that aren't ready to fight on their own. And with June the war's deadliest month for international forces, the fight is very much a hot one.
Signs pointing to lack of commitment
Evidence of that came on Tuesday, as senior diplomats from dozens of countries gathered for the Kabul conference in a show of international donor support for the Karzai government. Also on Tuesday, in Baghlan Province, Taliban fighters overran a police post in a district capital and beheaded six Afghan policemen.
---