Afghanistan war: Successful foreign assistance lets Afghans pick their project
In the Afghanistan war for hearts and minds, foreign assistance succeeded when a village decided to go from torches to light bulbs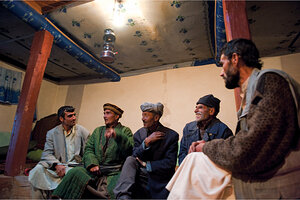 Monique Jaques/Special to the Christian Science Monitor
Living on the sides of an isolated ravine near the Tajikistan border in the province of Badakhshan, the villagers of Uland and Khushpak have electric power for the first time. Not only are they pleased about the modern convenience, but also about the democratic way they got it.
The electricity comes from a new micro-hydro turbine installed for less than $50,000. The villagers received the money directly from the Afghan government – on the condition that they would vote on how to use it and pitch in their own labor as much as possible. It's part of the National Solidarity Program (NSP), which is funded by international donors, including the United States.
The NSP is a compelling model for scaling up development with less of the waste and lack of oversight that comes with large contracts. The idea behind the program: Give every Afghan village a chunk of money and let it decide what to build.
"We are happy about the government," says Agha Mohammad, an elder of Khushpak. "Before this power, there was no other project."
Sitting on red carpets in the home of a villager in Uland, under the cozy glow of a new light bulb on a stormy evening, local leaders explain how, over the course of a year and a half, they used the NSP to electrify their community.
The 87 households of Uland and Khushpak received a combined $29,800 from the government. The average NSP grant is $33,000.
---